Home » Courses »
Need to educate your staff on Color Theory? I've got you covered.
This everything a salon owner needs to get their In-House Color Theory Education up and running (instantly). By the end of the curriculum your staff will be formulating intelligently, and they'll be ready to start taking color clients confidently, regardless of the color line you use. This brand-neutral education will turn them into profitable hairstylists, quicker. This purchase will reserve a spot in class for 10 students*
Here's What Included in the Owner's Suite:
12 Video Lessons
12 Downloadable Workbooks
12 Downloadable Workbook Answer Keys
Homework Assignments
Salon Exercises
4 Instantly Graded Quizzes
A Printable Teacher's Guide Including:

Homework Answer Keys
Two Optional Curriculum Schedules

4-Month Pace
8-Month Pace

Model Release Forms
Headsheets
Color Wheels
Underlying Pigment Chart
Color Maps
---
Over 6 Hours of Content in a 12 Bite-Sized Lesson Curriculum
Color Theory Review

Color Wheel (28 minutes)
Hair Structure & pH Scale (31 minutes)
Underlying Pigment (12 minutes)

Haircolor Foundations

Understanding Artificial Haircolor (31 minutes)
Defining Developers (35 minutes)
Color Consultations & Mapping (43 minutes)

Advanced Formulation

Gray Blending Formulation (29 minutes)
Gray Lifting Formulation (35 minutes)
Color Corrections Arsenal (45 minutes)

Advanced Blonding

Lighteners (29 minutes)
Foil Highlighting Theory (34 minutes)
Breaking Down Base Breaks (28 minutes)
---
2 Suggested Schedules
Although it's self paced, this 12-Lesson Curriculum comes with 2 suggested schedules you as the owner can choose from to use. There is a 4 Month or an 8 Month schedule, meaning this education can take as little or as long as you want depending on your needs. Here's what the 4-Month schedule looks like: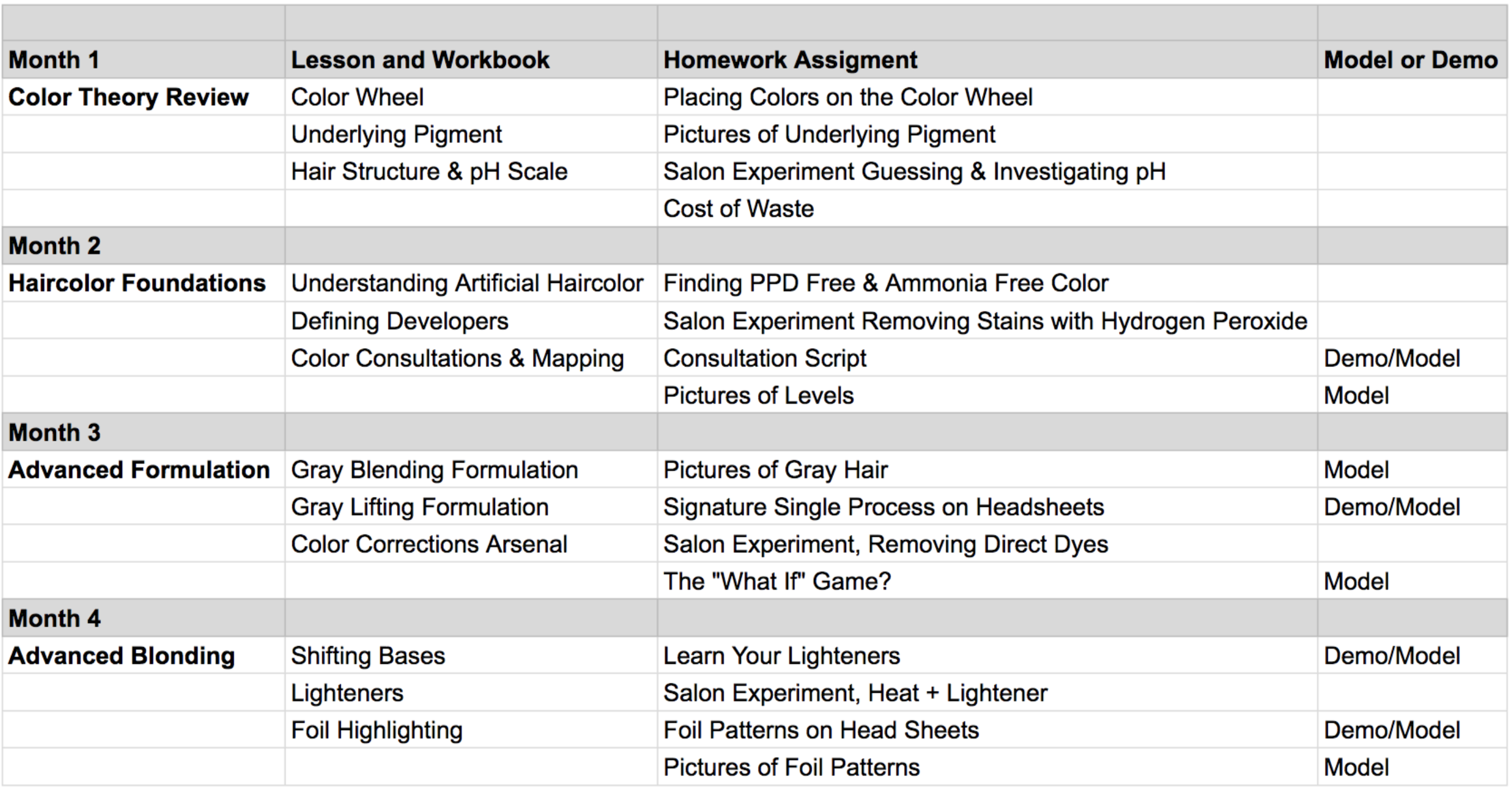 ---
What's the biggest benefit to Salon Owners using this education?
Your staff can learn at a pace you dictate to them, but on their own time. No more Mondays spent in the salon with a flip chart going over color theory. Your staff also will have increased accountability, the lessons are available 24/7 for them, no more lost binders or excuses.
How It Works:
Everything is hosted on this website for optimal performance, video playback speeds, and ease of use. Plus, you can ensure your students can access their lessons from any device, anywhere, anytime… No excuses. However, you will have the option to download most resources (workbooks, homework, teacher's guide, etc) if you'd prefer to print them.
How Many Employees Can I Put Through this course?
Ten. The purchase of the "Owner's Suite" will reserve you 10 spots of enrollment in the entire course (12 lessons). If you have more than 10 employees to enroll, additional spots of enrollment can be purchased for a reduced rate of $49 per student.  To make that purchase, please email us directly.
Are there Quizzes?
Yes. The Owner's Suite is the only package that includes 4 quizzes, instantly graded, (one for each section).
How Do I Enroll My Employees?
After your purchase, you will be emailed a coupon code that is unique to your salon, along with on-boarding instructions.  But here's what to expect: The coupon code can be used 10 times, once per student enrolled.  Each of your employees will sign up on Beauty School Remix with a link from your Owner's Suite confirmation email, they will create their own account and have instant access to the "Student Enrollment" curriculum.  Once enrolled, they can learn at their own pace, on their own time, and have access to these lessons from any device.
Need Additional Help Enrolling Employees?
No problem. After you purchase, if you'd prefer to send us the employees's email address we can invite them to class on your behalf and get them set up so you don't have to worry about it.
What about Models?
Although Beauty School Remix is strictly theory based, model work is highly encouraged. A helpful guide on when models should be incorporated is included in the suggested schedules you can pick from for your salon, you as the owner will need to facilitate the class that models are part of, but there are tips on it in the Teacher's Guide.
Meet Your Teacher
Heather Ward Kepshire, Creator
Educated in San Francisco
Refined in Boston
Thrived Everywhere Else
---
I'm a hairstylist and a haircolor curriculum creator. I know first hand that none of us receives the haircolor education we thought we would get in Beauty School, no matter how much we paid for it. When I graduated and passed my State Boards I knew virtually nothing about haircolor formulation.
Yet still 15 years later, newly licensed hairstylists continue to struggle like I once did with haircolor formulation because they are not being taught how to formulate haircolor, consult with a client, or build a loyal following.
I am bridging the gap between the Beauty School education you received, and all the things you need to know about haircolor formulation to help you thrive behind the chair quickly.
Every hairstylist deserves the chance to have a profitable career, regardless of the salon they work in or the brand of products they use. If you want to make more money, feel more confident with haircolor formulation, and get so popular with clients you have no choice but to keep raising your prices, you're in the right place.
Frequently Asked Questions (FAQs)
When does the course start and finish?
The course starts
immediately after purchase
! It is a completely self-paced online course – you decide when you start and when you finish.
What if I am unhappy with the course?
We would never want you to be unhappy! If you are unsatisfied with your purchase, contact us in the first 30 days and we will give you a full refund.
How can color education be brand-neutral?
It's simple, color theory is just science and rules. Every color line will have their own nuances, but this is all the real information you need to get you up to speed and formulating confidently.